TWO TYPES OF LINE PIPIE,SEAMLESS AND WELDED
Views: 0 Author: Site Editor Publish Time: 2021-10-29 Origin: Site Inquire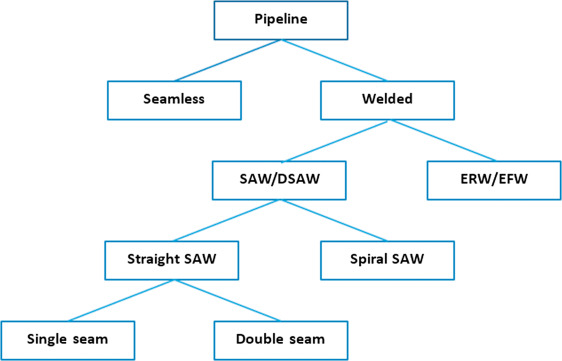 Seamless pipe is formed from a cylindrical bar of steel. The bar is heated to a high temperature and then a probe is inserted to create a hole through the cylinder. The cylinder is then transferred to rollers which size the cylinder to the specified diameter and wall thickness. A few mills can produce seamless pipe up to 24-in in diameter. For small diameter pipe, seamless pipe is common but unit costs are high and availability is usually limited. As pipe diameter increases, welded pipes are more economical.
In welded pipe, welding is used to close the seam after forming a steel plate or coil into a cylindrical shape. The mill uses ultrasonic and/or radiological inspection methods to ensure the quality of the weld seam and initiates pressure tests on each joint of pipe to levels that exceed the proposed operating pressure. Welded pipe is classified based on how it is formed and the type of welding technique used.
Submerged arc weld (SAW) pipe uses filler metal in welding, whereas electric resistance welded/electric fusion welding (ERW/EFW) are no-filler metal processes. SAW is further classified into longitudinal (or straight) welding (L-SAW) and S-SAW means spiral (or helical) weld tube. Normally, medium diameter straight L-SAW has a single seam, and large diameter L-SAW uses a double seam.
ERW pipe is manufactured using electric current to heat the steel to a point at which the edges melt together to form a bond. This manufacturing process was introduced in the 1920s and utilized low-frequency alternating current to heat the edges, but was found to be vulnerable to seam corrosion and inadequate bonding. Today, high-frequency alternating current is used, also known as contact welding. EFW pipe refers to a process that uses an electron beam to direct kinetic energy to melt the workpiece to form the weld.
Pipes are manufactured using two pipes separated by insulation and are used to maintain the temperature of the fluids to prevent the formation of hydrates, reduce wax deposition, or to reduce the pressure drop by reducing the viscosity of heavy crudes.
Rigid flowlines are manufactured from carbon steel or a high-performance steel alloy, with additional coatings providing corrosion protection and insulation. Flexible flowlines have the same applications as rigid flowlines but are manufactured differently, using composite layers of steel wire and polymer sheathing that provide high flexibility. A typical 8-in diameter flexible pipe, for example, can be safely bent to a radius of two meters or less. This flexibility is important for risers and flowlines laid on uneven seabeds and permits spooling on a reel or carousel in installation. The preference for using a rigid or flexible flowline is driven by design requirements, installation constraints, cost, schedule, and other factors.