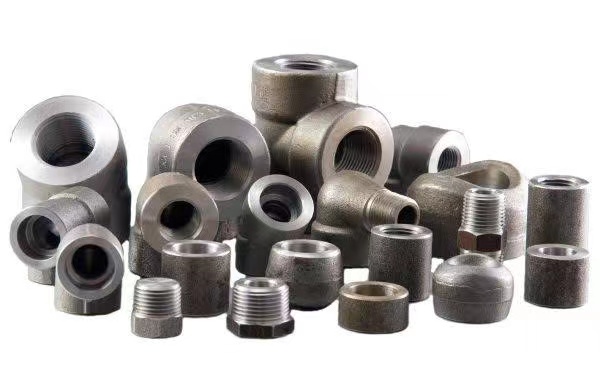 Forged steel fittings are the fittings made by forged steel. The process of manufacturing forged steel fittings include: cutting and heating billets, put pressure on heated billets under dies into desired shape, trimming and shot blasting. Then machine forged blank fittings for net shape and dimensions.
According to the applications of forged steel fittings, they are available in threaded and socket weld end connections. The dimensions for socket weld forged steel fitting conform to ASME B16.11 and threaded forged steel fittings conform to ASME (American Society of Mechanical Engineers) B1.20.1.
Materials of Forged steel fittings:
Carbon Steel: A105, ASTM specification dealing with forged carbon steel piping components
Stainless Steel: 304 or 316 stainless steel. With stainless steel, the fittings will not rust.
Types of Forged steel fittings: Elbow, Tee, Coupling, Unions, Bushing, Cap, Plug, Cross